Code Name: the Wolfman
File Name: Edgar Damien Heccubus
Primary Team Rossman Specialty: Keeping Jimmy Jammer away from my house.
Goal in Life: To marry Dev or kill an angel with his bare hands.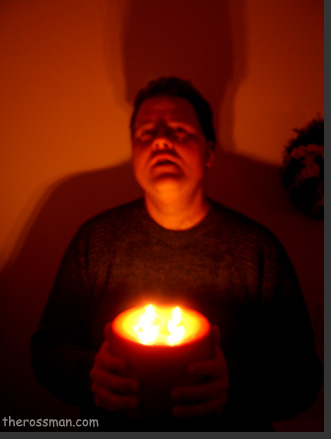 This is the Wolfman in the middle of his daily meditation. He lights a jumbo candle as an offering to Dimitri the "Love god of Hate", stands in a bucket of virgin monkey blood, and chants in ebonics for a good ten minutes.
I once found him doing this in my living room when I went out to get the mail. At first it scared the living shit out of me, but soon the scented candles that he was using soothed my soul to the point of almost blissfulness. All this despite the fact that I could feel the demons of disharmony sucking my psychological innards out through straws.
I once snuck into the Wolfman's place with a group of scientists from the nearby college when he was out of town for the weekend. They brought tons of those ectoplasm-tracking machines, and bad-spirit-vibe detectors in the hopes of helping me rid my hairy friend's house of evil, and thereby maybe get him to stop being such an all-around dick in his daily life. But as soon as they set up camp and turned everything on we found ourselves standing in the middle of Hell, facing the Devil herself. See, it turns out that one of the scientists (well, ALL of them actually) was a virgin, and the reason the Wolfman was out of town was he was looking for a virgin to sacrifice to Satan so that he could transport himself to her domain and propose to her then and there.
Well, Wolfman didn't think that there were any virgins left in a college town after the first 2 days of classes (guess he never thought to check the science and math departments), so we accidentally activated his Hell-dimension pentagram when one of the sexless nerds accidentally cut himself on one of the guillotines in the living room. I was able to think on my feet though, and I told Dev that I brought her 6 virgin souls so that I could get a chance to score with Mandy Quinlin that Saturday. Satan took my payment, but she screwed me over again (unfortunately not literally) as she booked Mandy and I a tennis court and gave Mandy a cursed racquet that would never let her hit the ball back to me. I scored a lot that day (4 games won total), but then Mandy kicked me in the knee and never returned my calls. Oh, and the Wolfman cut off my left arm (above the elbow) when he found out that I was the one who ruined his date with the Devil.
The Wolfman is probably the scariest of all of the Rossman Peoples. Sure, Robot Pedro may be psychotic, and Carl is like the Incredible fucking Hulk (without the mental restraint), but the Wolfman is just plain eerie. Creepy. Kooky. Mysterious and spooky. He's not altogether "ooky" though.
Like Chi-Chi, I met the Wolfman at East Bumblefuck High. He sat behind me in Math class and he could regularly be found carving pentagrams and goat skulls into his desk. Back then he was also one hell of a hairy motherfucker. His mane fell past his shoulders and he had a full beard at the age of 15. At first I thought he was suffering from lycanthopy, but even if the moon wasn't full, or it was broad daylight I found that he still looked like that.
One time in Chinese Anthropology class, the Wolfman brought in a live chicken. Our teacher, Mrs. Pairs, asked if it was for a class project, but I do think that she was pretty sure that it wasn't. The Wolfman responded with, "No, ma'am. This piece of poultry is for our lord and anti-savior.... Satan. Me and Satan are gunna have a nice uncooked bar-b-que at lunchtime... You don't mind, do you ma'am?" That last part wasn't really a question, and Mrs. Pairs never even tried to respond. After that morning I never saw that bird again. I didn't even asked the Wolfman who got the head. Probably Ozzy.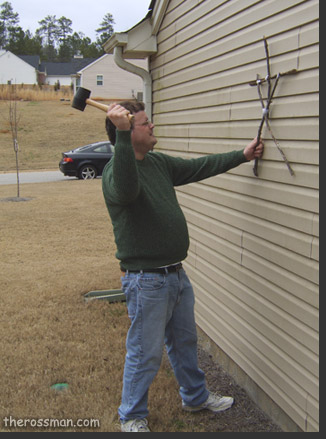 Here we can see the Wolfman nailing a "Blair Witch" stick-figure to the side of his house in order to scare away the kids that always use his lawn for a shortcut. It didn't work at all for the first two weeks (Little Andy Anderson even set the stick-man on fire on one occasion), but soon the Wolfman tried a different tactic: He cut off Little Andy's head and stuck it on a spike that he broke off of a neighbor's picket fence. Not even dogs will cross his yard anymore.
One time I noticed that the Wolfman had a dog chained up on the side of his house. It was a really ugly fucking dog, and it looked like it was a hairless version of a St. Bernard or Great Dane. The Wolfman told me that it just followed him home one day, but I decided to dig deeper into the mystery. I noticed that there were "Missing Dog" posters all over town for a dog-napped Mastiff named "Ike", so I went back to the Wolfman's place and whistled and yelled "C'mere, Ike! Here boy," and the giant beast lumbered towards me. That's when I noticed that not only was the dog hairless, but it was now "skinless" as well. Oh man, if you thought those things slobbered before, never try petting the skullcap of one with all those meaty muscles and veins exposed... What the fuck was my point?
Yes, it's true, the Wolfman is evil. But he also has a heart of gold... but he only displays it for certain people. See, he's no pussy who helps old ladies cross the street or gives babies back their pacifiers after they dropped them (actually he's more likely to be the guy in the car who tries to hit the old lady and I know for a fact that he goes around trying to steal the bottles from babies' strollers). Nope. The Wolfman will only do nice things for other evil people. People who don't even appreciate the fact that something nice has been done for them. He's a nut that way. An evil nut.
For example, there was this one time when I was in line at the cafeteria in college and some assfuck just stepped in front of me and got the last cherry Jell-O bowl of the day. He was a goddamn gorilla, so I just vented off steam to the Wolfman instead of trying to get my ass handed to me by the simian line cutter. Well, the Wolfman didn't take it lying down. He got up and walked straight back to the cum sniffer as he stuffed his fat face with my gelatin. The Wolfman looked all serious and pissed and stuff as he just stood next to the pud sucker until the guy acknowledged his existence.
The obese cock gobbler grunted and belched out "WHAT THE HELL D'YA WANT, YOU HAIRY MUDDAFUCKA?!?!?!" But the Wolfman stood his ground, smiled, and produced a can of whipped cream.
"Here," he said. "Cherry always tastes better with some of the whip cream." The two dog cunts are like best friends now. And I found that I can never look at Jell-O ever again without crying.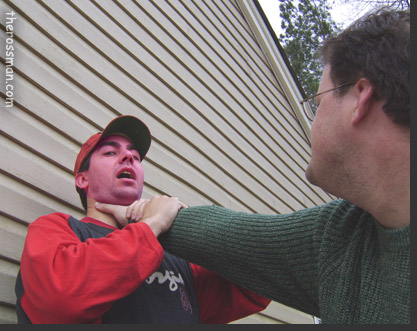 One time when I was totally fed up with the Wolfman's evilness I tried to kill him. Big fucking mistake. First of all I tried to off him during the fall equinox (the day when most of his insidious and ominous powers are at their peak) and second of all I tried to do it by puncturing his heart with a wooden stick. See, in my fevered fervor I forgot that you can't kill wolfmen like that... wooden stakes through the heart are for vamps, like Halle Berry. Anyway, after the attempt on his life failed, the Wolfman assaulted me with all his wolfy might and then urinated (and more) on me after he left me for dead in the gutter. He took several pictures of the ass-whooping, but this was the only one in which I didn't have excrement on me.
"Hey, Rossman," you ask? "Why do you still hang out with the guy if he's that much of an asshole?"
Quite simply, because he's that much of an asshole. See, he's a total dick to me, and he considers me a friend. Now, just use your pathetic little brain and imagine how mean and nasty he can be to people he truly hates. People like Jimmy Jammer, Robot Pedro, N'Sync, Cher and the cast of Friends. They had better watch out. If any of them sees the Wolfman strutting his stuff on down the street they should have the sense to dive into the nearest dumpster or sewer to get the hell out of his way. I saw him catch Jimmy Jammer once. Jammer was walking down the sidewalk on Broad Street in downtown Athens when the Wolfman and I came walking up from the other direction. Apparently Jimmy didn't see me flick him off because he actually ran up to us and started stammering on about how cool it was to meet us like this and how we could now go drinking or whoring or something together.
Well, the Wolfman didn't think that that was such a great idea. And to emphasize this point to Jimmy Jammer he grabbed him by his love sack, lifted him up in the air about 3 feet, shook him vigorously, slammed his face into a tree, threw him through a restaurant's display window, smashed two garbage can lids like a pair of cymbals on his skull, and then carved the words "Satan is in me" onto the Jammer's chest using some of the broken glass from the previously shattered window. After that the Wolfman tied Jimmy to the bumper of his truck and drove around town yelling "This pigfucker likes to sexually abuse puppies!! That's right, fluffy PUPPIES!!!" It was a lesson to us all.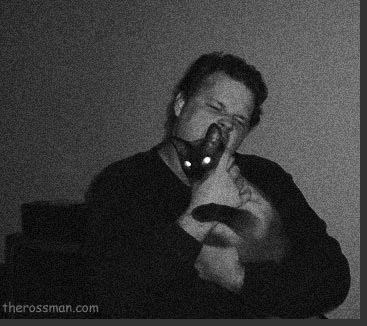 Here's a picture from a surveillance camera that I set up at my ex-girlfriend's place when her cats started disappearing. It turned out that the Wolfman was eating them when we weren't looking. I hate cats, and especially Lauren's mean pussies, so I never told on him.
What does all this mean? Well, it usually means that if I want Jimmy Jammer to stay the fuckola away from me I need to keep the Wolfman nearby. It also means that if I don't want the Wolfman to do evil things to me I need to somehow keep other people (who are still kind of annoying) near too, so that the rage of the Wolf can be brought upon them instead of moi. It also means that I have to find myself some silver bullets just in case the Wolfman goes loco someday and forgets that I'm not an enemy. If that day ever does come, God help me, it would end up being my very own private little apocalypse complete with fire, brimstone, war, famine and PAIN.
What a pisser.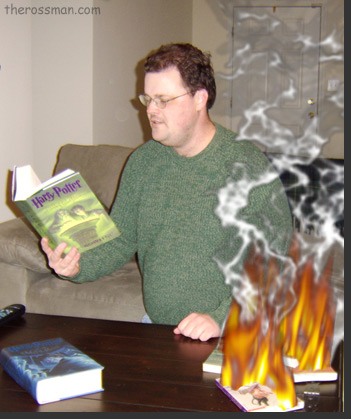 One Sunday the Wolfman invited me over to his place for some "book readin'" and brews. I was keen to the "brews" part, so I headed right over.
Well, it was apparently a "Book readin' and burnin'" jamboree that I found myself in the middle of, as the Wolfman shoved some of C.S. Lewis' Christian-themed Chronicles of Narnia novels in my hands as I stepped through the door and ordered me to "Git burnin'!"
With the light of the warm fire from the tomes of Aslan illuminating the room, the Wolfman then proceeded to read out loud from the writings of the Satanist known as J.K. Rowling. It was kind of unnerving when at the end of every sentence the Wolfman would stop and state "So sayeth the Lord Satan." It took for-fuckin-ever to get through all those damn books. Jeezus...

Wolfman Quote: "Hey, which one of your knives did you say could stab a man through the skull? This one or this one?"